Tale of the Tides - The Vernal Springs by C D Pressdee
On a warm spring day in the 1950s, twelve-year-old Jason, an only child from the Midlands, arrives for a holiday in a small seaside village where his father lived as a child. Staying with his uncle and aunt, he plans to explore the rocks at low tide which his father remembers from childhood. Soon he meets Joe, an old man who once was an expert fisher of the shores. Joe becomes a mentor for the boy as he can describe, from memory, the layout and secrets of the rocks. When he starts to investigate the shoreline, a shy Jason meets Abby, a lively young Australian girl. As their friendship grows, she comes to realise that he has a secret and is escaping from something he'd rather not talk about. With more confidence, Jason becomes adept at catching shellfish. Yet he encounters unexpected trouble, even in these beautiful places, and will have to draw on his new resources to confront possible obstacles ahead . . .
Special launch discount of 25% - use code AUTHOR0222 at checkout during Wales Week London.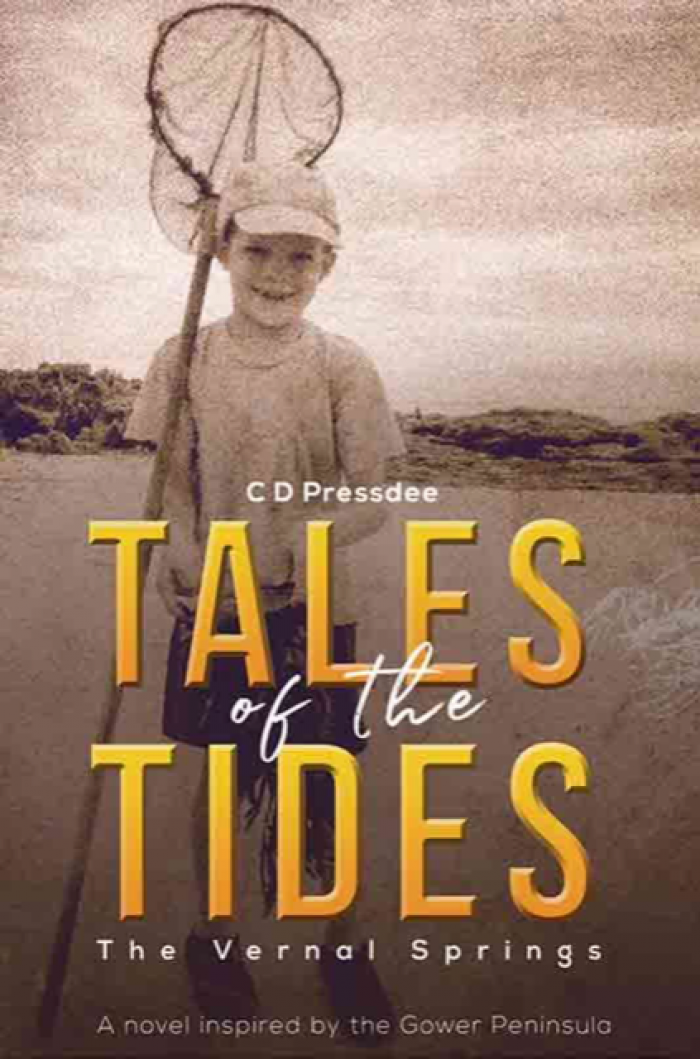 C D Pressdee was brought up in Mumbles and attended Bishop Gore Grammar School in Swansea then the University of Wales, Cardiff where he read Economics, achieving a BSc (Econ) Hons degree.

Combining an interest in business with his lifelong passion, he started a seafood business exporting shellfish to most European countries.

His restaurant, The Oyster Perches, was the first in Swansea to gain entry to the Good Food Guide 1974 and was acclaimed for the use of local produce from Gower and South Wales. In late 1975, he opened the Drangway in the oldest area of Swansea (Drangway—a local word for a narrow lane). It had entries in Michelin with a Red M, the Good Food Guide and Egon Ronay.

In the late 1980s, he moved into marketing, undertaking many consultancies for the Enterprise Initiative, and became a registered consultant with Cranfield Business School. He undertook consultancies and food promotions throughout the UK and Europe. He staged food events in the European Parliament, Brussels; at the British Embassy, Paris; the International Celtic Festival in Lorient, Brittany and created a beach buffet party for 500 at the Mipcom Television Film Festival in Cannes.

In the 1990s, he took part in many assignments in Yemen, working on cultural exchanges with The British Council in Sana'a and Aden, and travelling through most areas of the country. Recently, he did an extended restaurant and hotel consultancy in Bali, Indonesia.

During this time, he also wrote regularly for the Western Mail, Daily Post, The Times, Financial Times and numerous other publications. He won a Glenfiddich Award in 1990 as Regional Writer of the Year.

His food books include: Streetwise Cookery, Welsh Coastal Cookery, Food Wales and London Oyster Guide.

Earlier works of fiction are: Reflections of a Vampire and Devil's Recipe.

He has taken part in numerous radio and television programmes and series including Floyd on Great Britain and A Feast of Floyd. He was a weekly contributor to Streetlife on BBC Radio Wales, and BBC Wales TV See You Sunday, and BBC2 Summer Scene, live from the Garden Festival in Ebbw Vale. He presented Nightbites on ITV and Hedgerow Harvest on UKTV.