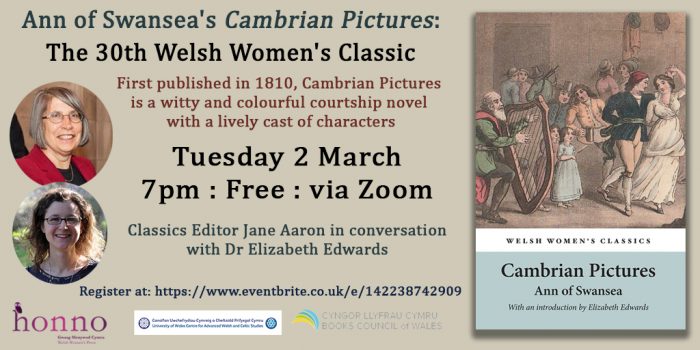 Classics Editor Jane Aaron in conversation with Dr Elizabeth Edwards
The Welsh Women's Classics bring great Welsh women's writing of the past to a new generation of readers - Cambrian Pictures is the 30th title to be published in the series.
Jane Aaron will talk about the history and ethos of the Classics. Elizabeth Edwards will give us an insight into the fascinating Ann of Swansea and her novel Cambrian Pictures.
We will then open up to questions from the audience.
Book discount for all event registrations on any classic bought through www.honno.co.uk

Weaving together themes of gender, liberty, power and transgression, Ann Julia Hatton's Cambrian Pictures (1810) is a comedy of manners and morals with serious intent.
Drawing on domestic travel writing and the emergence of the Gothic, Cambrian Pictures is one of the strongest Welsh-set novels of the Romantic period.
Ann Julia Hatton lived in London for several years: after being left in dire financial straits she earned her living as a 'model' in a brothel and later tried to commit suicide in Westminster Abbey. She also lived in the US before settling in Swansea.

Jane Aaron is Emeritus Professor of Literature at the University of South Wales, and Editor of the Welsh Women's Classics, published by Honno Welsh Women's Press.
Elizabeth Edwards is a Research Fellow at the Centre for Advanced Welsh and Celtic Studies at the University of Wales, and editor of Cambrian Pictures for the Welsh Women's Classics.

Organised by Honno Welsh Women's Press.
With thanks to the University of Wales Centre for Advanced Welsh & Celtic Studies, and the Books Council of Wales.